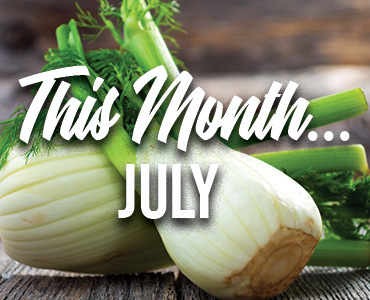 Summer is at its peak, we've been experiencing glorious sunshine with a few drops of rain - it's the perfect growing month!
Take the opportunity to sow carrots, in time for an autumn crop. Start by planting them in your greenhouse mid July, before moving to your veggie path for an end of September harvest. Beetroot is a fast growing crop, perfect to plant this time of year. Also, their leaves can be snipped off after 25 - 30 days to be used in salads, whilst the beetroot itself matures for an extra 30 days.
How about a delicious pea? In particular, an RHS Garden Merit Winner none the less!
Onward
produces lots of thick pods, bursting with delicious sweet peas. Plant 10cm apart in well drained soil and support with trellis as they grow. Remember to keep them well watered.
Add colour to your garden and a companion to your vegetable with our striking
Tagetes
. It doesn't only do they add colour to your garden but they give off a strong and pungent smell, which help to repel white flys and nematodes - making them perfect to plant around your veggie patch!
If you're reliant on your vegetable garden for the winter months, start prepping by cleaning out your old crop beds and replacing them with fresh beds. Nurture the soil and keep it freshly watered during the warmer days. On really hot days,move potted plants in to shady spaces, to avoid scorching.
For our more gardening FAQs please visit -
https://gardenerskitchendirect.com/gardening-faqs